Contex HD 3650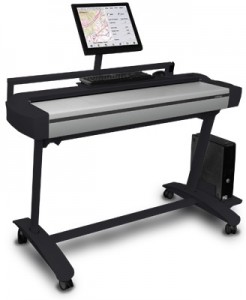 Contex HD 3650 multifunctional
Full Color scannen kopiëren en printen met uw grootformaat printer
Stroomlijn uw workflow en maximaliseer de productiviteit van uw bestaande apparatuur.
Met deze hoge snelheid multifunctionele oplossing distribueert u gemakkelijk afdrukken in kleur en zwart wit.
Op hoge kwaliteit scannen
Met ATAC, ALE, 48-bits kleuren, highly sensitive CCD-camera's en een bijpassende kleur lamp scant u verschillende mediatypen die dik, dun, gevouwen, gekreukeld, oud en nieuw zijn.
Vereenvoudig de workflow
Dankzij het Plug 'n' play ontwerp haalt u het meeste uit uw printer. Maximaliseer de productiviteit met afdrukken tot 12 A1 scans per minuut – zonder splitsing in kleur en zwart-wit afdrukken. Met het intiutieve touch-screen bediend u de Jetimage of Nextimage software.
Technische specificaties

Specificaties
Contex HD3650 MFP standaard
Contex HD3650 MFP PLUS (optie)
Optische resolutie
600dpi
Maximum scanbreedte
1914 mm
Maximum Mediadikte
1,5 cm
Scannauwkeurigheid
0.1% +/- 1 pixel
Data capture (color/mono)
48-bit/16-bit
Scansnelheid (cm/sec.)
Scansnelheid op basis van een 36 inch document
400dpi (Turbo) RGB kleur
3.8
7.6
400dpi (Turbo) Index kleur
7.6                                       7.6
400 dpi (Turbo) grijswaarden/zwart wit
30.5                                    30.5
Interface
High speed USB 2.0 with xDTR
Onderstel
Afmetingen
Hoogte 141cm, breedte 147cm, diepte 84cm
PC eigenschappen
Maximale PC hoogte/gewicht: 400x165mm, 15kg
Touch screen
17inch LCD
Aanbevolen specificaties pc
"Small Form Factor" desktop PC, 2.0GHz Intel Core 2 Duo of beter. 2GB RAM intern
Software
JETimage Pro (touch screen) or Nextimage SCAN+COPY (scan-to-email) or Nextimage TOUCH (touch-screen)
Talen
Engels, Nederlands, Frans, Duits, Italiaans, Spaans, Chinees, Japans, Koreaans, Russisch
Systeem specificaties
32 and 64-bit: Windows 7, Vista, and XP
Ondersteunende printers
HP, Canon, ENCAD, Epson, MUTOH, Océ, RICOH, Roland, Xerox. andere merken zullen getest moeten worden op compatibiliteit.
Bestandsformaten
TIFF, JPG, PDF, DWF, CALS, BMP, JPEG-2000(JP2), JPEG2000 Extended (JPX), TIFF-G3, TIF-G4.